Yesterday I finished sewing the ribbon on a Target T-shirt. When I was rushing through Target on my way to work the other morning to buy underwear, I skimmed the sale rack and bought some basic t-shirts for about $2.50 each. What I didn't notice was that the navy one had some horizontal cuts, like it was on the top of the box and got ripped by the box cutter.
I could have returned it, but that would've meant another trip to Target. Instead, I sewed ribbon at the level of the rips. Love the ribbon, not sure about the flower, or where I put the flower. It may move.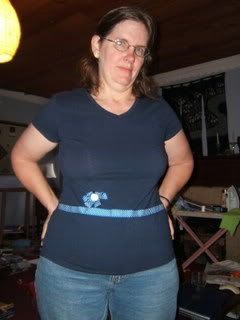 Today I went by the Friends of the Library bookstore. Major scores:
The finishing issue is one TMOTH didn't have ($0.50!!), the Learn to Knit booklet was published the year I was born ($0.50!!), the patchwork book was $2.00, and the Good Housekeeping Needlecraft book was marked $2.00, but the cashier gave it to me for a dollar (!!!!) because it was "so old" (!!!!!!!!!!!!!!). A very good day.